on
March 15th, 2013
at
8:49 am
So I've read about lucid dreaming and while I have been having this "problem" lately, it's not quite "lucid dreaming" either.
You see, I can remember every "lucid dream" that I have, which isn't supposed to happen. And I have been having problems determining what happened in a dream and what happened in real life.
But what am I not able to do? Control these dreams. Which is supposedly exactly what one should be able to do in a lucid dream.
Lately I keep waking up between 3 and 5 am. Sometimes I have to use the bathroom. Sometimes I'm in pain. Sometimes…I have no idea why, I just happen to wake up and can't fall back asleep.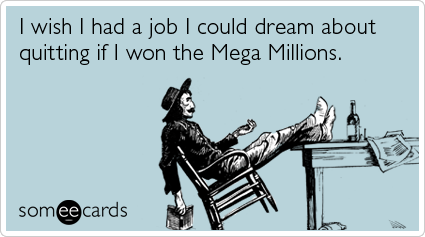 Now that would be a fun dream.
If I can eventually fall asleep again I tend to have lucid dreams. They feel extremely real and I often hold entire conversations with people. When I fully wake up I always wonder how much of it was me rehashing an actual conversation or how much of it was totally made up by my brain.
Aubrey will often give me a weird look when I tell him a story that I *think* is new information. I get a look and then a "I know…you told me already."
And then there are the times when I have to say "You mean, I didn't tell you? Didn't we have a whole conversation about this???" Because apparently it was all a dream.
So I have put some books on hold at the library about lucid dreaming. Because I'm supposed to be able to control what happens in these weird instances. They feel incredibly real.
In fact, they feel so real that I've actually fully woken up during them before and realized that I am making hand motions or facial expressions that I was doing in my dream. Including but not limited to: "chewing food", "washing" my hands, and "pushing" someone away (aka I find both of my arms outstretched in front of me.)
Usually my dreams feel like I am out of my body watching things happen to me. So to feel like I am actually talking or doing stuff with people is a brand-new thing for me.
I've tried to explain this to people and they tend to just be confused. So I can't even imagine what it sounds like typed out on the Internet. But…I just had to bring it up! It's been happening every night lately!
Do your dreams seem real?
Do you even remember your dreams?
Have you ever studied lucid dreaming?
This girl is confused.